Concept Design
Use d3 Designer to create a 3D sketch of your stage and import it into d3, or use d3's in-built screens, venues and props to build your stage. Apply some content and view the result in real time from any position in your venue. d3 allows you to explore options quickly as to find the best look for your project. Present your concepts directly in d3's simulator and answer client questions on the spot instead of waiting for renders. Make changes immediately in response to your clients comments, or have multiple stages available to show your client the various options.
Congratulations, you've won the job.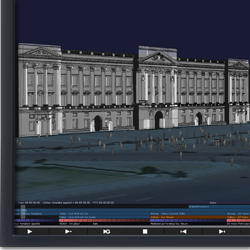 Detailed Design
Use d3 Designer to take the approved concept and continue to develop your project inside d3 – creatively as well as technically. Explore pixel pitches, simulate camera lens ratios to determine the best places to film the event from, and prepare output feeds for your technical integration.
Create content templates, then validate your test clips to find out what works best before you spend your valuable content budget. Render your updates to stage movies for e-mail, or present them directly to the client on your d3 Designer laptop.
Your project is taking shape.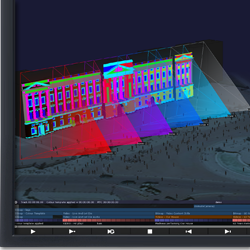 Pre-Production
Use d3 Designer to import audio, quantise your time-line, then start sequencing your show to the beat or to time-code. Test out different camera moves for those important moments. Regularly update your client with fly-through movies.
Nail down the last technical details and test all signal connections in the studio. Export cue lists, output feed information for LED processors, set up projectors and simulate precisely their position and lens requirements.
Things are looking good.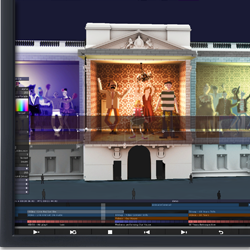 Onsite Installation
Use d3 Designer to plug your d3 4×4pro, d3 2×4pro and d3 2×2plus into your stage. You've already done all the pre-preparation, so you'll save a lot of time.
Line up projectors fast using d3's innovative QuickCal and d3 Designer as a multi-editing tool. Prove audio output from d3's broadcast quality audio outputs, input MIDI, Artnet and OSC to for full live control, then configure d3's robust understudy and automatic matrix control switching for back-up.
Your virtual reality just became real.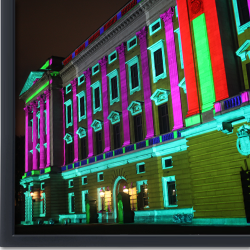 Live Rehearsals
d3 accepts LTC, MTC, and Midi BeatClock for syncing to timecode as well as accepting cues from lighting desks, OSC and MIDI notes for events.
d3 allows you to tweak screen settings in real-time without having to go to the projectors or LED processors, and d3's real-time generative effects allow you to add that final sparkle. Use the MultEdit feature on a d3 Designer laptop to prepare cues, tweak sequencing or update any other element of the show.
Almost there.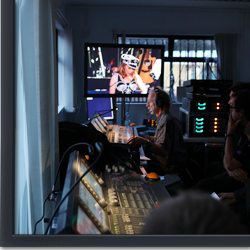 Showtime
The d3 4×4pro, d3 2×4pro and d3 2×2plus can be controlled by almost any protocol, you can operate d3 using cues from any lighting console, or slave to Timecode at the same time.
You can also use d3 as the master controller for the entire show, as it sends control commands to other devices. Send LTC or MTC, ArtNet to lighting control, DMX commands to projectors for shutter control, or even control matrices.
d3: leading innovation, inspired by your creativity.