Real-time generative content
r14 adds Gold support for Notch real-time generative effects playback.

Notch introduces a new era for content and effects creators, letting you edit and create high quality real-time content in a node-based environment, then transfer and play back in d3 without time-consuming rendering. Notch content is rendered in real-time on the GPU, so it can also apply effects to your live video capture / IMAG or be made responsive to live stage data, such as audio, MIDI, automation or BlackTrax tracking.

r14 also comes with a library of sample effects to get you started including: Colour Correction/ Grading, Distortion, Edge Detect, Edge Ghosting, Fish Eye, Glitter, Glow, Rain, Ripples, Scanlines, Snow, Sparks, VHS.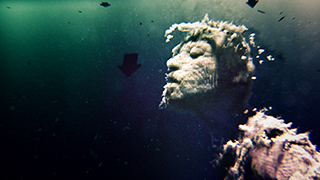 Device Recording
This innovative new feature allows external device signals to be recorded and played back on d3's timeline.

Capture MIDI, DMX, Automation and BlackTrax in one pass during rehearsal, then sequence to your heart's content, even once the performers have left the stage.

Device Recording gives you a whole new level of power when creating performance responsive content.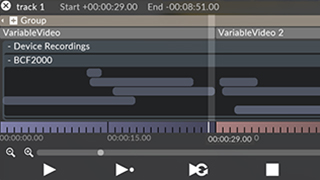 Multi Transports
Multi Transports has been introduced in r14.1, enabling users to have multiple timelines running simultaneously. A Multi Transport Manager handles the configuration and control of the transports within, and each transport is assigned a set list to run through a user definable set of tracks.

Each transport also has its own event transport which can have unique or global remote controls (DMX, Timecode etc), this gives the user new show control methods for complex productions.

There is also a new 'MultiEventTransport' which creates a Telnet server running into d3, and accepts specific commands to trigger and query the transports remotely.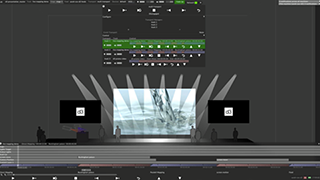 Other features
We've completely revamped d3's cue list allowing you to trigger any cue in any track, and edit cues within the cue editor without having to jump to the track.

We've completely rewritten d3's networking system making it faster, more reliable, and better-behaved over wireless networks. Now you can run wireless editors without having to set up dedicated wireless routers.

Lighting Console integration has been significantly improved with the addition of CITP. Thumbnails can now be transferred between d3 and Hog 4 and GrandMA2 Lighting Consoles enabling faster Sockpuppet sequencing.

sACN has now been added as an input and output source of DMX. The DMX device manager has been revamped to allow the configuration of thousands of DMX devices in the same project, and output can now be spread across multiple machines, resulting in near unlimited DMX output universes.

We've added support for OpenEXR still images, improved the workflow for VFC setup, improved rendering performance across the board, improved support for dual GPU laptops, and made hundreds of bug fixes and improvements based on feedback from our users.