Design. Pitch. Win.
d3 Designer is the software only version of our d3 production suite, which enables designers, project managers and technicians to work on a unified communication and collaboration platform.
From conceptual pre-visualisation through technical specification, sequencing and content compositing all the way to technical set-up, d3 Designer is the flexible but powerful solution.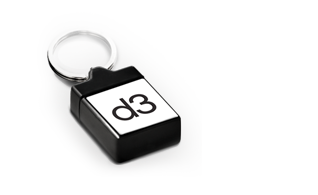 MultiEdit Collaboration
d3 supports the MultiEdit feature from r11 onwards, whereby multiple laptops with d3 Designer can join a session hosted on a d3 rackmount server and continue to work on the show.
This means production times are dramatically reduced, as teams can split up and simultaneously work on projection calibration and soft edge blending, while the front of house team can work together to sequence and manipulate content tracks. In the meantime, the production team can review sequences in real-time over a network. Now that's dividing and conquering.
See Networking features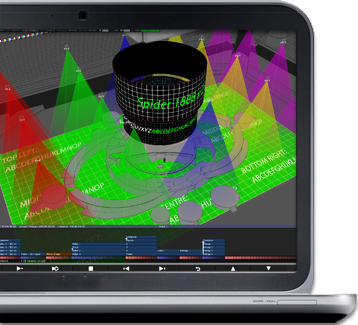 Pre-visualise your design
Navigate through your project in real-time and in 3D in d3's stage simulator. Add screens, lights, and projectors; including their lenses. Pick the perfect camera angles and render fly-through movies to present to your client and win that pitch.
d3's advanced 3D stage simulator gives you a pixel-perfect view of your stage & screens, allowing for excellent communication between technical and creative teams.


See real-time simulation features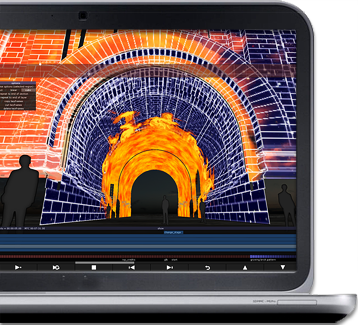 Design and test your content
Use d3's advanced content mapping features to easily map content onto multiple LED, projection and DMX-based screens of any shape and form, whether static or moving.
Because d3 knows the exact position of every pixel, you can now throw content into the stage from any angle, even onto the most complex group of surfaces. With the right type of content mapping you'll have your content up on the screens in no time.


See content mapping features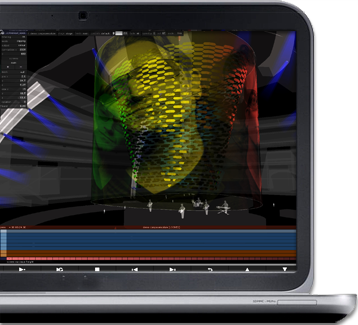 Simulate projector placements and lens options
Project content onto the most complex three-dimensional projection objects using d3's Projector Simulation toolkit.
Fully understand the technical limitations of your show by modelling it up-front; projector resolution, lens type, throw distance can all be worked out in advance.
With the new d3 R11 MultiEdit feature, multiple operators with d3 Designers can collaborate in real time to line-up the projector outputs.

see projector simulation features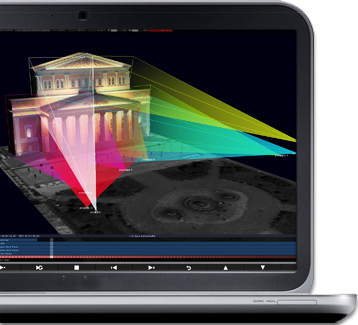 Sequence the show in the office
Use d3's intuitive timeline and layer tools including powerful 3D content mapping for easy control of unlimited layers of media.
Easily beat-map audio, sequence to the beat or to the frame, and sync the timeline using a range of industry standard protocols.
Pass content layers into effect layers to make your own creations, while controlling moving lights, tracking moving scenery, and controlling any device.


See sequencing features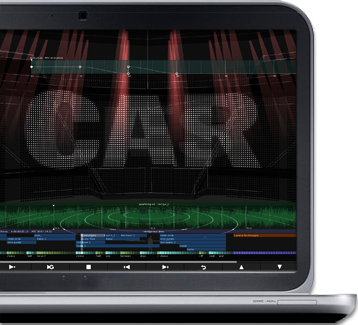 Prepare your outputs
d3's unique feed scene editor allows for real-time control of any output, including those of virtual displays from within a master/slave network.
For your LED outputs, move, scale, rotate, mirror, crop, duplicate and mask out an unlimited amount of content rectangles across all outputs.
Use the QuickCal line-up feature to line up your projector outputs, and add additional feedwarp if needed, as well as adding your dynamic blending textures.
See output configuration features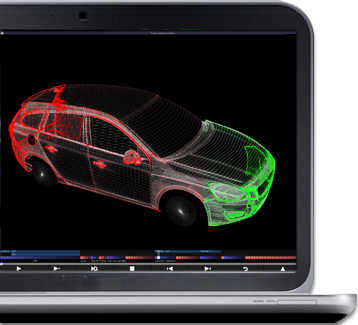 Tech Specs d3 Designer
Software Features

Bundled software

d3 Production Suite

Design and Pre-visualise

Build and save projects
Render visualiser movies to file
Make screen grab files
Input DMX/MIDI/OSC
Transfer project to d3 system

Playback

Output video with watermark
Output DMX with watermark
Render feed outputs movies to file

3rd party software

Quicktime Pro

Media File Specifications

Video Playback

.mov (anim, pjpg, dxv)

Still image formats

.png, .jpeg, .bmp, .tif

Audio file formats

.mp3, .wav, .aiff

3d mesh format

.obj
Minimum Hardware Specifications

Operating System

Windows 7 Professional & Ultimate, Windows 8 Professional.
Windows 10
32bit & 64bit supported.

CPU

Intel i5 2.3Ghz Quad Core or above

GPU

1GB Video RAM
DirectX11 compatible
Please note: Virtual Machines (like Parallels) do not support running d3

Memory

2GB RAM

Audio

Any permitted

Support, Updates and Warranties

Annual license subscription package includes

1 years free software upgrades
1 years support (via phone or email)
Unlimited knowledge base access

Performance data d3 Designer*
Pure playback
Layers of HD**
Video outputs only 1 (.mov) 2
DXV
7
DXV with Alpha-Channel
7
Photo-JPEG
3
Animation with Alpha
3
Video output & HD-SDI input
DXV
N/A
DXV with Alpha-Channel
N/A
Photo-JPEG
N/A
Animation with Alpha
N/A
Video output, HD-SDI input & DMX output
DXV
N/A
DXV with Alpha-Channel
N/A
Photo-JPEG
N/A
Animation with Alpha
N/A
*Based on Major Release 11, Revision 10039
MacbookPro Spec: Mid 2012 Retina, Bootcamped Windows 32Bit OS, 2GHz I7 CPU, 8GB RAM, G-force GT 650M 1024MB GPU, Apple 500GB SSD Media Drive
** These figures are based on an average video bitrate of 19MB/s. Performance may vary depending on specific project setup. (live video input, Bitmaps, screen resolutions, etc.)
1 GUI only, not outputting on any other output heads
2 Quicktime Codecs
Compare products
d3 Designer
2x2plus
4x2pro
4x4pro

Software

Pre-Vis in 3d
Simulate projectors
Sequence to the beat
Configure multiple outputs feeds
Render stage movies
Render feed movies
Render feed max size
2048
8192
16384
16384
Set-up device integration
Act as session editor
Live camera input
Hardware Specific
Hardware Specific
Act as Master
Act as Slave
Act as Understudy
MultiEdit
Receive device signals
Hardware Specific
Output to screens
Watermarked
Output DMX
Watermarked

Hardware

Chassis
Not Applicable
2U Industrial Rackmount Case / Custom face
d3 designed rugged chassis
d3 designed rugged chassis
Digital Outputs
Not Applicable
2x DL-DVI + 1x DVI
4x DL-DVI
Varied by output card
Illuminated rear panel
Not Applicable
PCI-E expansion connector
Not Applicable
10Gbit media network ports
Not Applicable
1
2
1Gbit network ports
Not Applicable
2
2
2
Rear mounting brackets
Not Applicable
Neutrik rugged connectors
Not Applicable
Replaceable rear connector plates
Not Applicable
OLED text status display
Not Applicable
USB speed
Not Applicable
3.0
3.0
3.0
FW 800
Not Applicable
CPU
Not Applicable
3.7Ghz Xeon Quad Core
E5 2.6Ghz Xeon Hexa Core
E5 3.5Ghz Xeon Hexa Core
GPU Card
Not Applicable
K2200
W8000
W9100
GPU memory
Not Applicable
4GB
4GB
16GB
Max texture size px
Not Applicable
8192
16384
16384
Replaceable media drive caddies
Not Applicable
1x Ruggedised SSD caddy
4x Ruggedised SSD caddy
Media drives capacity (shipped)
Not Applicable
1x 512GB
2x 1TB
2x 1TB
Max SSD drive allowed
Not Applicable
1
4
8
Max 3G-SDI inputs
Not Applicable
Hardware Specific
2
2
Max HD-SDI inputs
Not Applicable
Hardware Specific
4
4
Max SD-SDI inputs
Not Applicable
Hardware Specific
4
4
Genlock in
Not Applicable
Balanced audio in/out
Not Applicable
Hardware Specific
Locking power connector & pass thru
Not Applicable
MIDI in/outputs
Not Applicable
Hardware Specific
ADAT I/O
Not Applicable
Hardware Specific
DMX (via Artnet) in/out
Not Applicable
d3 Designer Specification sheet Download

For more downloads please see the Downloads Center

Fill in the enquiry form to receive d3 Trial email for download.
d3 Trial
Get into d3 with our free downloadable trial. Use it for training and evaluation and test out features by building your stage and screens and bringing in content. You cannot save your project with d3 Trial, but we do have a range of ready projects for you to play around with if you don't want to start from scratch. Simply fill in our enquiry form to receive our d3 Trial email for download.
Enquiry Form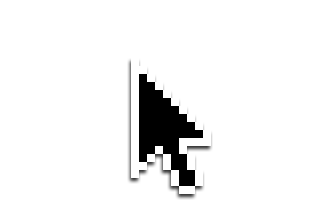 Sales
d3 Technologies offer various products for your show, from a software only version for pre-vis and sequencing to full software on hardware solutions that will take you all the way through from pre-vis to playback. For advice or pricing enquiries, please fill out our form.
Enquiry Form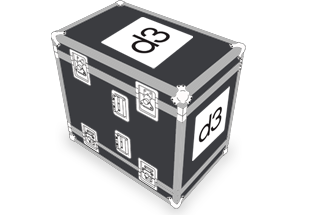 Resellers
d3 Resellers look after local sales, support and training for d3 products in their own region. To check to see if you have a local reseller in your region, follow the link and check our reseller map. Are you interested in becoming a reseller? Contact our sales team in London through our enquiry form.
see resellers
Rental Partners
Looking to rent one or multiple d3 systems for your show? Our global network of respected rental companies stocking d3 systems is ready to help you. For one-off shows or long term rentals, check our rental partner listing to see how close you are to the nearest d3 rental partner.
See Rental Partners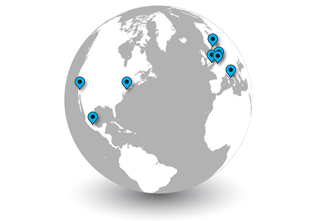 d3 Studios
d3 Studios are visualisation and presentation spaces where a team of d3 experts can help you. Spread across the world, these hubs are available for you and your clients to help with any d3 requirements, from consultation to support, and from pitches and training. Please get in touch if your company is interested in the benefits of becoming a d3 Studio, or see our listed d3 Studios.
See d3 Studios
d3 Education
There are many different ways to tackle a project when it comes to video and projection show design, and at least as many software and hardware solutions to get you there. d3 will take you through the entire project on one platform, making it a revolutionary and cost-effective solution for your educational environment. Please contact us to discuss our special licensing for educational facilities, and learn more about the benefits of working with an integrated workflow.
Enquiry Form