Industry Leading
The d3 4×2pro is a completely renewed version of our popular d3 4U v2.5. Featuring the same custom case, low-latency video capture, genlock and lockable connectors as the d3 4×4pro, the d3 4×2pro is the robust solution for concerts, theatres and mid-sized projection events.

Featuring four 2K outputs, the d3 4×2pro can Push Every Pixel®, playing up to 16 layers of HD video (DXV/HAP codecs) and up to four layers of uncompressed HD video.

Although the d3 4×2pro is a faster and more powerful system than the 4U v2.5, it is compatible with the existing version, as well as with its bigger brother, the d3 4×4pro.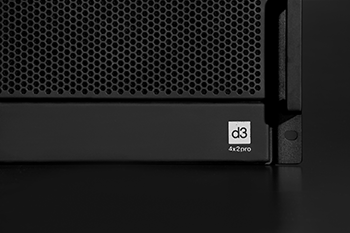 Pro range: Professional
When we created our pro range, we were aiming for a robust, flexible solution that plays nicely together in any configuration.

The 4×4pro and 4×2 both feature a rugged aluminium chassis, minimal front-panel status LED panels, and professional-grade lockable rear panel connectors. Both pro machines have balanced XLR, lockable ethercon, BNC connectors for SDI capture and genlock and the display output formats you need, built right into the machine. And with the next-gen lockable Neutrik TrueOne power connector, we've made it easy to daisy-chain machines together to reduce rack complexity.

Pro range products are compatible with each other. Together, they can deliver any type of show from small to large.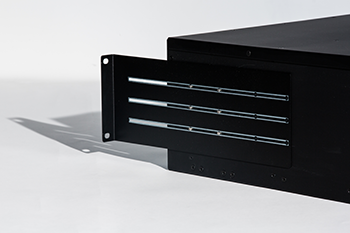 Powerful
Push Every Pixel® is our benchmark for the playback power needed by video professionals everywhere.

Push Every Pixel® means that a machine should have enough power to fill every physical pixel of its outputs with two simultaneous layers of content. If you are running four outputs of 4K, you need to be able to play eight 4K content layers, or up to 32 HD layers to Push Every Pixel®. With four Dual-Link DVI outputs, you need to be able to play up to 16 HD layers, and so on.

With powerful Xeon processors, workstation-grade GPUs, terabytes of RAID-0 SSD storage, and lighting-fast 10Gbits/sec ethernet, the d3 pro range is designed from the ground up to meet this challenge.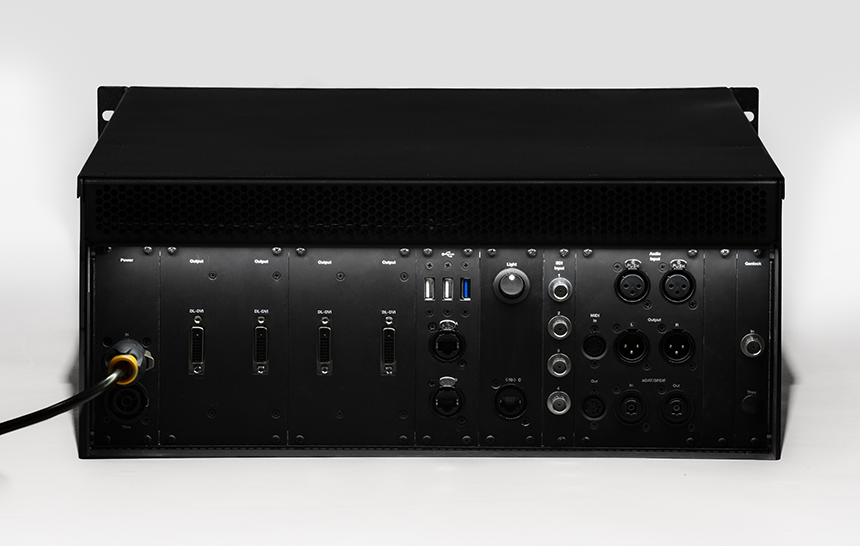 Availability
The d3 4×2pro is shipping now.

Please email sales@d3technologies.com for your d3 4×2pro quote today, fill in our enquiry form, or call us on +44 207 234 9840.
Tech Specs d3 4x2pro
| | |
| --- | --- |
| Bundled Software | |
| d3 Proprietary | Full d3 Production Suite |
| 3rd Party | GoToAssist, DMX Workshop |
| Media File Specifications | |
| Video Playback | .mov (anim, pjpg, DXV*, Hap, Hap Q) *N.B. DXV3 not supported |
| Still image formats | .png, .jpeg, .bmp, .tiff, .tga |
| Audio file formats | .mp3, .wav (44.1kHz, 16-bit, stereo) |
| 3d mesh format | .obj |
Physical Specifications

Rack Depth

585mm (23.03")

Unit dimensions

W: 445mm (17.52'')

H: 178mm (7'')

D: 593mm (23.35'')

Unit + Rack Handles

621mm (24.45'')

Unit weight

19.5kg (43lb)

Packed dimensions

W: 711mm (28'')

H: 508mm (20'')

D: 737mm (29'')

Packed unit weight

26kg (57lb)

Mounting system

4U 19" rack mount
Hardware Specifications

Voltage

100-240V,50-60Hz,13 amps

Power Consumption

800W @110V (normal), 1000W @110V (max)

Operating System

Windows 8.1 Embedded Pro

CPU

2 x Xeon Hexa-Core 2.6Ghz

Memory

16GB DDR3 ECC RAM

Environmental Tolerances

Temperature: 5-35°C (40°-95°F)
Humidity: 5%-95% (non-condensing)
Altitude: 0-8850 ft (0-2700m)

Audio

RME Professional

Storage

2 x 80GB SSD (Internal System Drive, Restore Drive)
2 x 512GB Removable Media Drives
System Connectivity - I/O

Video Output

4 x Dual Linked DVI-D
(2560 x 1600 max)

Video Input

4 x HD-SDI or 2 x 3G-SDI

Analogue audio

2 x Balanced XLR In
2 x Balanced XLR Out
1 x 1/4" Headphones Jack

Digital Audio

ADAT/SPDIF I/O


MIDI

1 x In
1 x Out

General Network

1 x Gigabit LAN

Artnet

1 x Gigabit LAN

Media Network

1 x 10Gb/sec LAN

Data/Peripherals

2 x USB 2.0
3 x USB 3.0
1 x Firewire 800

Video Sync

BNC Genlock

Bundled accessories

Bundled accessories

Keyboard
Mouse + Mouse Mat
Power Cable (Plug-True1)
Power Daisy Chain (True1-True1)
Getting Started Guide + Manual
Backmounted Rails

Support, Updates and Warranties

License subscription package includes

2yrs hardware warranty
(Return To Base)
Free software upgrades (hardware only)
24/7 support (via phone or email)
Unlimited knowledge base access

d3 4x2pro Performance data*
Video outputs only 1 (.mov) 2
HAP/DXV
16
HAP-Q
8
DXV with Alpha-Channel
8
Photo-JPEG
5
Animation with Alpha
2
Video output & HD-SDI input 3 (.mov)
HAP/DXV
16
HAP-Q
8
DXV with Alpha-Channel
8
Photo-JPEG
5
Animation with Alpha
2
Video output, HD-SDI input & DMX output 4 (.mov)
HAP/DXV
Coming soon
HAP-Q
Coming soon
DXV with Alpha-Channel
Coming soon
Photo-JPEG
Coming soon
Animation with Alpha
Coming soon
* Based on Major Release 11.2 All tests carried out with gen-locked output heads with the same resolutions
** These figures are based on an average video bitrate of 19MB/s. Performance may vary depending on specific project setup. (live video input, Bitmaps, screen resolutions, etc.)
1 4 x 1920x1080 @ 60Hz, Gen-locked output heads with the same resolutions.
2 Quicktime Codecs
3 As above, with the addition of 1 x 1080i live video input. d3 running in Full Speed Mode.
4 As above, with the addition of 10 universes of DMX output.
Compare products
d3 Designer
2x2plus
4x2pro
4x4pro

Software

Pre-Vis in 3d
Simulate projectors
Sequence to the beat
Configure multiple outputs feeds
Render stage movies
Render feed movies
Render feed max size
2048
8192
16384
16384
Set-up device integration
Act as session editor
Live camera input
Hardware Specific
Hardware Specific
Act as Master
Act as Slave
Act as Understudy
MultiEdit
Receive device signals
Hardware Specific
Output to screens
Watermarked
Output DMX
Watermarked

Hardware

VFC card support
Not Applicable
Chassis
Not Applicable
2U Industrial Rackmount Case / Custom face
d3 designed rugged chassis
d3 designed rugged chassis
Digital Outputs
Not Applicable
2x DL-DVI + 1x DVI
4x DL-DVI
Varied by output card
Illuminated rear panel
Not Applicable
PCI-E expansion connector
Not Applicable
10Gbit media network ports
Not Applicable
1
2
1Gbit network ports
Not Applicable
2
2
2
Rear mounting brackets
Not Applicable
Neutrik rugged connectors
Not Applicable
Replaceable rear connector plates
Not Applicable
OLED text status display
Not Applicable
USB speed
Not Applicable
3.0
3.0
3.0
FW 800
Not Applicable
CPU
Not Applicable
3.7Ghz Xeon Quad Core
E5 2.6Ghz Xeon Hexa Core
E5 3.5Ghz Xeon Hexa Core
GPU Card
Not Applicable
K2200
W8000
W9100
GPU memory
Not Applicable
4GB
4GB
16GB
Max texture size px
Not Applicable
8192
16384
16384
Replaceable media drive caddies
Not Applicable
2x Ruggedised SSD caddy
4x Ruggedised SSD caddy
Media drives capacity (shipped)
Not Applicable
1x 512GB
1x 1TB
2x 1TB
Max SSD drive allowed
Not Applicable
1
4
8
Max 3G-SDI inputs
Not Applicable
Hardware Specific
2
2
Max HD-SDI inputs
Not Applicable
Hardware Specific
4
4
Max SD-SDI inputs
Not Applicable
Hardware Specific
4
4
Genlock in
Not Applicable
Balanced audio in/out
Not Applicable
Hardware Specific
Locking power connector & pass thru
Not Applicable
MIDI in/outputs
Not Applicable
Hardware Specific
ADAT I/O
Not Applicable
Hardware Specific
Art-Net (via ethernet) In/Out
Not Applicable
d3 4×2pro Specification sheet Download


d3 pro range dimensional specification sheet Download

For more downloads please see the Downloads Center
d3 Trial
Get into d3 with our free downloadable trial. Use it for training and evaluation and test out features by building your stage and screens and bringing in content. You cannot save your project with d3 Trial, but we do have a range of ready projects for you to play around with if you don't want to start from scratch. Simply fill in our enquiry form to receive our d3 Trial email for download.
Enquiry Form
Sales
d3 Technologies offer various products for your show, from a software only version for pre-vis and sequencing to full software on hardware solutions that will take you all the way through from pre-vis to playback. For advice or pricing enquiries, please fill out our form.
Enquiry Form
Resellers
d3 Resellers look after local sales, support and training for d3 products in their own region. To check to see if you have a local reseller in your region, follow the link and check our reseller map. Are you interested in becoming a reseller? Contact our sales team in London through our enquiry form.
see resellers
Rental Partners
Looking to rent one or multiple d3 systems for your show? Our global network of respected rental companies stocking d3 systems is ready to help you. For one-off shows or long term rentals, check our rental partner listing to see how close you are to the nearest d3 rental partner.
See Rental Partners
d3 Studios
d3 Studios are visualisation and presentation spaces where a team of d3 experts can help you. Spread across the world, these hubs are available for you and your clients to help with any d3 requirements, from consultation to support, and from pitches and training. Please get in touch if your company is interested in the benefits of becoming a d3 Studio, or see our listed d3 Studios.
See d3 Studios
d3 Education
There are many different ways to tackle a project when it comes to video and projection show design, and at least as many software and hardware solutions to get you there. d3 will take you through the entire project on one platform, making it a revolutionary and cost-effective solution for your educational environment. Please contact us to discuss our special licensing for educational facilities, and learn more about the benefits of working with an integrated workflow.
Enquiry Form