Power for performance
The d3 4U v2.5 server is for those who need power, integration, storage, and flexibility for their productions. With graphics power capable of 12HD playback of any resolution, the d3 4U is a highly scalable solution for installations and productions which require synced pixel-perfect playback.
With four DisplayPort 2560 × 1600 outputs and two HD-SDI input cards the system is industry leading in its video processing capabilities.

Ships with the d3 software
d3 4U v2.5 servers come loaded with the latest d3 software. That means that you get exactly the same user interface and platform as d3 Designer but integrated into a dedicated hardware platform.
To run the show, just copy the project file developed in d3 Designer to the d3 server and fully utilise the next level of networking, integration, and optimised playback performance.
Together, the d3 Designer and the d3 4U server form a very effective workflow and production environment that will save you time and money with every show.
See Features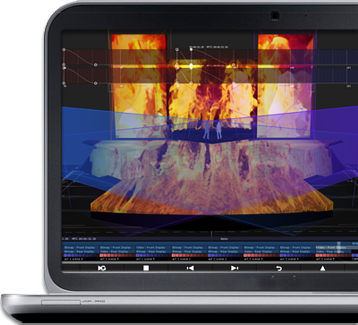 Integration
The d3 rack-mount is packed with input/output capabilities.
With 2 x Gigabit ethernet ports, you can have one Art-Net and one device network simultaneously. The 6 x USB 2.0 slots give you the external device or backup hard-drive access at super quick speeds. Firewire 400 and 800 is there in case you need it, plus 2 x COM ports for those who prefer analogue. d3 is DMX (via Art-Net), MIDI, OSC and serial compliant.

Industrial Ruggedised Components
d3 systems are built on industrial components, so they are rugged and hardy, even in the long term.
Our chassis is among the most rugged cases on the market, with special customisations to make sure the internal components stay where they should, even if you bounce it around the country on the back of a truck.
Only industrial components are in the d3 product range, developed over years by people like you, we are committed to continuing to offer the right product for the job.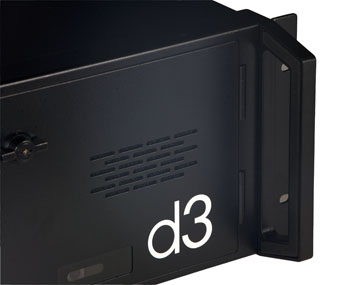 Graphics Power
The d3 4U v2.5 features the very best ATI 4 output digital GPU, featuring 2Gb VRAM, with up to 2560×1600 DisplayPort or 1920×1200 DVI (using the active DisplayPort adapters provided).
d3 4U's graphics card is so powerful, you can cross-fade 2 × 8k video files while running through a sequence of 8k png images, and simultaneously scrub up and down the time-line without skipping a frame.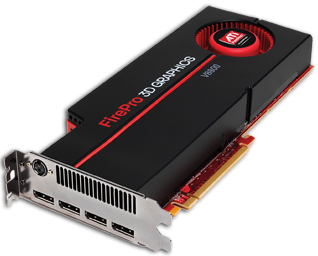 Synchronisation
The on-board synchronization module allows the GPU to be used in demanding applications that require synchronization to external sources (Genlock) or synchronization multiple GPUs in different systems (Framelock), even across multiple machines.
This combination means that the user can guarantee Framelock across outputs, across multiple machines, while all the time locked to the single reference of your choice.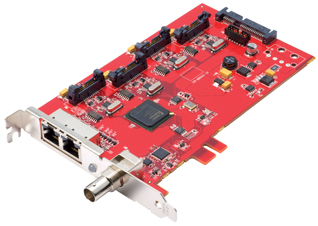 Latest i7 Processor
The new 4U 2.5 System comes equipped with the very latest Intel Core i7, featuring 4 cores with 8 concurrent threads when using Hyper-Threading, it operates at 3.40GHz, and is designed to work with DDR3-1333 memory and feature an 8MB L3 cache.
This means you are no longer limited to only our proprietary DXV codec for 4k and above textures, where the previous limit was 6 × 1080p using the GPU decompression technique. Now you can also use .pjeg and even .anim in multiple layers with this kind of performance.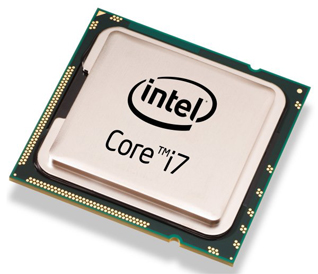 Flexible Video Input
The d3 4U offers video capture from uncompressed 8-bit and 10-bit HD-SDI and standard definition SDI cameras.
With two card installed as standard, you'll get up to 2 x HD-SDI or 4 x SD-SDI per machine, as multi-channel capability allows simultaneous capture from two independent SDI cameras, or to switch between two HD-SDI cameras on each card.
Supports 525 NTSC, 625 PAL, 720p and 1080i; SMTPE 292M, SMPTE 344M and SMPTE 259M.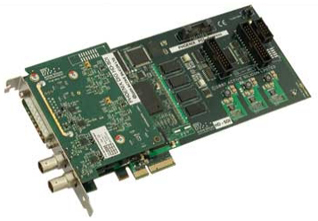 Solid State Media Storage
Built with the quality, reliability, and durability that lives up to the OCZ name, the Vector Series easily integrates into the d3 System and features TRIM support to optimize performance over the drive's lifespan as the ultimate Windows 7 companion.
With read rates of up to 550Mb/s this device will give you the ability to store more, play more and deliver more.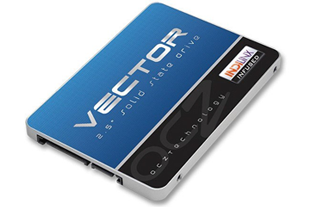 Removable Media Drives
Both 2U and 4U feature a 4 bay removable Media Drive array, meaning you can swap your drives around at will.
Coming as standard with a single 480Gb SSD there is plenty of room for all that high-res content. But, when you want to back up, quickly swap out a show, duplicate or copy, just add another drive to the media drive bay for instant access to complete peace of mind.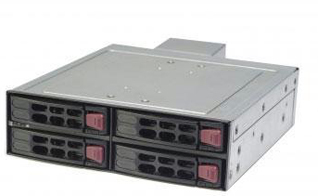 Broadcast Quality Audio
The d3 4U contains the world's most versatile PCI Audio Interfaces: 192 kHz AD- and DA-converters with more than 110 dB signal to noise ratio, all inputs and outputs simultaneously operational and easy-to-install optional hi-quality analog expansion boards.
With balanced XLR in/out analogue audio, you can use its on-board MIDI interface to sync to MTC, LTC or receive MIDI notes or MSC for complete show integration.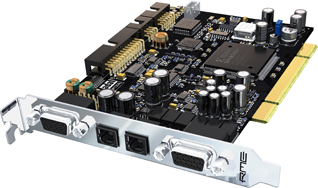 Tech Specs 4U 2.5
| | |
| --- | --- |
| Bundled Software | |
| d3 Proprietary | Full d3 Production Suite |
| 3rd Party | Quicktime Pro, GoToAssist, MacDrive 9, DMX Workshop |
| Media File Specifications | |
| Video Playback | .mov (anim, pjpg, dxv) |
| Still image formats | .png, .jpeg, .bmp, .tif |
| Audio file formats | .mp3, .wav, .aiff |
| 3d mesh format | .obj |
Physical Specifications

Unit dimensions

W: 484mm (19'')

H: 177mm (7'')

D: 484mm (19'')

Unit weight

19.8kg (43.7lb)

Packed dimensions

W: 630mm (24.8'')

H: 340mm (13.4'')

D: 671mm (26.4'')

Packed unit weight

26.9kg (59.3lb)

Mounting system

4U 19" rack mount
Hardware Specifications

Voltage

100-240V,50-60Hz,13 amps

Power Consumption

550W (normal), 850W (max)

Operating System

Windows 7 Professional

CPU

2nd Generation Intel Core i7 3.4Ghz

Memory

4GB DDR3 RAM

Environmental Tolerances

Temperature: 5-35°C (40°-95°F)
Humidity: 5%-95% (non-condensing)
Altitude: 0-8850 ft (0-2700m)

Audio

RME 9632 Hammerfall DSP Pro Audio

Optical Media

DVD+-RW Dual Layer Drive

Storage

1 x 80GB SSD (Internal System Drive)
1 x 480GB SSD (Removable Media Drive)
System Connectivity - Outputs

Video

4 x DisplayPort (2560 x 1600 Max)

Analogue audio

15-pin D-sub to 2 x XLR Analog (Balanced)
1 x Phones

Digital Audio

9-pin D-sub to 1 x RCA Digital
1 x XLR Digital

MIDI

1 x MIDI

Artnet

via Gigabit ethernet
System Connectivity - Inputs

Video

4 x SD-SDI / 2 x HD-SDI

Analogue audio

15-pin D-sub to 2 x XLR Analog (Balanced)

Digital Audio

9-pin D-sub to 1 x RCA Digital
1 x XLR Digital

MIDI

1 x MIDI

Artnet

via Gigabit ethernet

System Connectivity - General

Data/Peripherals

6 x USB 2.0
1 x Firewire 400
2 x Firewire 800

Network

Dual Gigabit ethernet ports

Video Sync

ATI S400 Card [2x RJ45 for System Link 1x BNC for House Sync]

Bundled accessories

Bundled accessories

Keyboard, Mouse, Power Cable, Mouse Mat, Getting Started Guide, Manual, DisplayPort to DVI Adapters, Audio Adapter, 500GB USB External Backup Drive, Warranty Information

Training, Support, Updates and Warranties

License subscription package includes

3yrs hardware warranty
(Return To Base)
3yrs software upgrades
3 yrs support (via phone or email)
Unlimited knowledge base access
3 training credits (year 1)
1 refresher training day (years 2 & 3)
See Training page for more info.
4U 2.5 Performance data*
| | PURE PLAYBACK LAYERS OF HD** |
| --- | --- |
| Video outputs only 1 (.mov) 2 | |
| HAP/DXV | 12 |
| HAP-Q | 6 |
| DXV with Alpha-Channel | 7 |
| Photo-JPEG | 5 |
| Animation with Alpha | 5 |
| Video output & HD-SDI input 3 (.mov) | |
| HAP/DXV | 11 |
| HAP-Q | 6 |
| DXV with Alpha-Channel | 7 |
| Photo-JPEG | 5 |
| Animation with Alpha | 4 |
| Video output, HD-SDI input & DMX output 4 (.mov) | |
| HAP/DXV | 6 |
| HAP-Q | 3 |
| DXV with Alpha-Channel | 6 |
| Photo-JPEG | 4 |
| Animation with Alpha | 3 |
* Based on Major Release 11.2 All tests carried out with gen-locked output heads with the same resolutions
** These figures are based on an average video bitrate of 19MB/s. Performance may vary depending on specific project setup. (live video input, Bitmaps, screen resolutions, etc.)
*** Based on 8 layers of 4K (3840x2160) playing simultaneously
14 x 1920x1080 @ 60Hz, Gen-locked output heads with the same resolutions.
2 Quicktime Codecs
3 As above, with the addition of 1 x 1080i live video input. d3 running in Full Speed Mode.
4 As above, with the addition of 10 universes of DMX output.
Compare products
| | d3 Designer | 2U | 4U v2.5 | 4x2pro | 4x4pro |
| --- | --- | --- | --- | --- | --- |
| Software | | | | | |
| Pre-Vis in 3d | | | | | |
| Simulate projectors | | | | | |
| Sequence to the beat | | | | | |
| Configure multiple outputs feeds | | | | | |
| Render stage movies | | | | | |
| Render feed movies | | | | | |
| Render feed max size | 2048 | 2048 | 8192 | 16384 | 16384 |
| Set-up device integration | | | | | |
| Act as session editor | | | | | |
| Live camera input | Hardware Specific | | | | |
| Act as Master/Slave | | | | | |
| Receive device signals | Hardware Specific | | | | |
| Output to screens | Watermarked | | | | |
| Output DMX | Watermarked | | | | |
| Hardware | | | | | |
| Chassis | Not Applicable | 2U Std Rackmount case | 4U Industrial Rackmount Case | d3 designed rugged chassis | d3 designed rugged chassis |
| Digital Outputs | Not Applicable | 2x DL-DVI | 4x DP1.1 | 4x DL-DVI | Varied by output card |
| Illuminated rear panel | Not Applicable | | | | |
| PCI-E expansion connector | Not Applicable | | | | |
| 10Gbit media network ports | Not Applicable | | | 1 | 2 |
| 1Gbit network ports | Not Applicable | 2 | 2 | 2 | 2 |
| Rear mounting brackets | Not Applicable | | | | |
| Neutrik rugged connectors | Not Applicable | | | | |
| Replaceable rear connector plates | Not Applicable | | | | |
| OLED text status display | Not Applicable | | | | |
| USB speed | Not Applicable | 2.0 | 2.0 | 3.0 | 3.0 |
| FW 800 | Not Applicable | | | | |
| CPU | Not Applicable | i7 Quad Core | i7 Quad Core | E5 2.6Ghz Hexa Core | E5 3.5Ghz Hexa Core |
| GPU memory | Not Applicable | W5000 DVI | v8800 | W8000 | W9100 |
| GPU memory | Not Applicable | 2GB | 2GB | 4GB | 16GB |
| Max texture size px | Not Applicable | 8192 | 8192 | 16384 | 16384 |
| Replaceable media drive caddies | Not Applicable | SSD Tray | SSD Tray | Ruggedised 2x SSD caddy | Ruggedised 2x SSD caddy |
| Media drives shipped | Not Applicable | 1x 480GB | 1x 480GB | 2x 512GB | 4x 512GB |
| Media drive capacity (high speed) | Not Applicable | 2x 1TB | 2x 1TB | 2x 1TB | 8x 1TB |
| Max 3G-SDI inputs | Not Applicable | | | 2 | 2 |
| Max HD-SDI inputs | Not Applicable | 1 | 2 | 4 | 4 |
| Max SD-SDI inputs | Not Applicable | 2 | 4 | 4 | 4 |
| Genlock in | Not Applicable | | | | |
| Genlock thru | Not Applicable | | | | |
| Balanced audio in/out | Not Applicable | | | | |
| Locking power connector & pass thru | Not Applicable | | | | |
| MIDI in/outputs | Not Applicable | | | | |
| ADAT I/O | Not Applicable | | | | |
| DMX (via Artnet) in/out | Not Applicable | | | | |
d3 4U 2.5 Specification sheet Download

For more downloads please see the Downloads Center
d3 Trial
Get into d3 with our free downloadable trial. Use it for training and evaluation and test out features by building your stage and screens and bringing in content. You cannot save your project with d3 Trial, but we do have a range of ready projects for you to play around with if you don't want to start from scratch. Simply fill in our enquiry form to receive our d3 Trial email for download.
Enquiry Form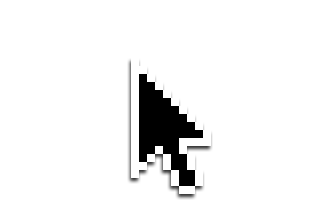 Sales
d3 Technologies offer various products for your show, from a software only version for pre-vis and sequencing to full software on hardware solutions that will take you all the way through from pre-vis to playback. For advice or pricing enquiries, please fill out our form.
Enquiry Form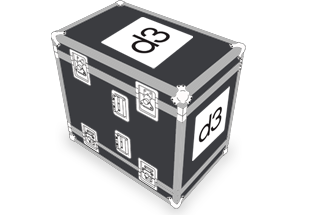 Rental Partners
Looking to rent one or multiple d3 systems for your show? Our global network of respected rental companies stocking d3 systems is ready to help you. For one-off shows or long term rentals, check our rental partner listing to see how close you are to the nearest d3 rental partner.
See Rental Partners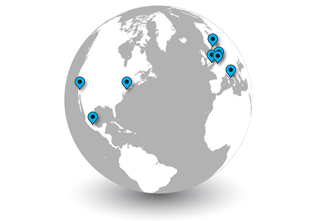 d3 Studios
d3 Studios are visualisation and presentation spaces where a team of d3 experts can help you. Spread across the world, these hubs are available for you and your clients to help with any d3 requirements, from consultation to support, and from pitches and training. Please get in touch if your company is interested in the benefits of becoming a d3 Studio, or see our listed d3 Studios.
See d3 Studios
d3 Education
There are many different ways to tackle a project when it comes to video and projection show design, and at least as many software and hardware solutions to get you there. d3 will take you through the entire project on one platform, making it a revolutionary and cost-effective solution for your educational environment. Please contact us to discuss our special licensing for educational facilities, and learn more about the benefits of working with an integrated workflow.
Enquiry Form