Real-time 3D simulation
Drop video content onto projection surfaces, LED sceens and DMX lights to immediately view it in d3's unique 3D real-time stage simulator.
With d3's pixel-perfect simulations, you will raise client confidence by managing expectations and resolve creative and technical concerns all the way from the start of the production.
Render camera fly-throughs
Add cameras to your d3 stage and film fly-throughs like you would in the real environment. Find out where you can best place cameras in the real world to capture your show, far ahead of the stage being built.
If needed, render your simulations to Quicktime movies and send them to your client and to the rest of your team members to look at.
Add video surfaces
Import 3D models of any complex-shaped LED or projection screen, or create them directly inside d3.
Set resolutions, size, position, transparency and even simulate the shape and glow of individual pixels by applying pixel masks.
Easily animate screen positions using d3's powerful mapping features and output the screen content via the output tools.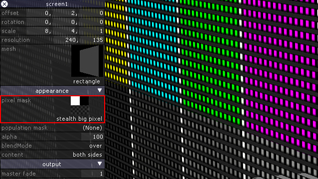 Configure virtual projectors
Drop virtual projectors into your d3 stage to simulate lens values, resolutions, projector positions and orientations.
Apply up to 16K content directly to the projection surfaces inside the d3 visualiser and let the virtual projectors automatically send the right content portion to the physical projectors.
See Projector Simulation features
Simulate props
To raise the simulation quality of your d3 project even further, you can import venue models and add any scenic props. Set colors, rendering styles and even apply textures to individual props to make your 3D world as close to reality as possible.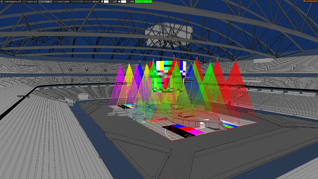 DMX screens
As well as outputting video to projectors and LED processors, d3 can simultaneously treat screen pixels as DMX channels – perfect for architectural installations where a vast amount of DMX pixels is standard.
Choose ArtNet, KiNET and many other lighting control protocols that come built-in with your d3 system.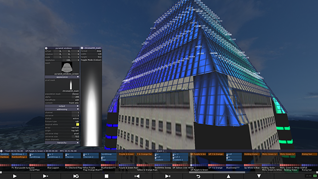 Drive DMX fixtures
Control and visualise DMX based moving head lights, strobes or any other DMX-based product in your show.
Easily pixel map your content onto your fixtures as you would on any video surface, and use d3's sophisticated moving target feature to make impressive movements of the lights.
More features